Under the auspices of the Hungarian V4 Presidency, an online conference was held on 7 July 2021 to mark the 5th anniversary of the operation of the Visegrad Patent institute. The event was also aimed at distributing information to potential patent applicants about their possibilities to make those first steps towards utilizing the intellectual property they generate through RDI activities with the help of patenting. 
The mission of the Visegrad Patent Institute (VPI), the second intergovernmental institution of the V4 countries besides the International Visegrad Fund, is to help innovative businesses, universities, research institutions and individual inventors in the CEE region to obtain patent protection abroad and safely enter the international market. The VPI is has been appointed as an International Searching Authority (ISA) and an International Preliminary Examining Authority (IPEA) under the Patent Cooperation Treaty (PCT), administered by the World Intellectual Property Organization (WIPO). Learn more about the VPI here.

​
The ceremony was opened by of Mr. Daren Tang, Director General of the World Intellectual Property Organization, who underlined the significant innovation potential of the Central European region by highlighting recent impressive achievements of the region's inventors. He also emphasised the reliable cooperation with the Visegrad Patent Institute in terms of timeliness and quality.
Mr. Tang's opening message was followed by the greetings of high-level representatives of the Governments of the Visegrád Countries. First, Mr. László Palkovics, Minister for Innovation and Technology delivered his greeting messages on behalf of the host country of the VPI, Hungary. He was followed by Mr. Karel Havlíček, Deputy Prime Minister, Minister of Industry and Trade and Minister of Transport of the Czech Republic, Mr. Karol Galek, MSc., State Secretary of the Ministry of Economy of the Slovak Republic, and Mr. Robert Tomanek, Undersecretary of State, Ministry of Economic Development, Labour and Technology, Republic of Poland.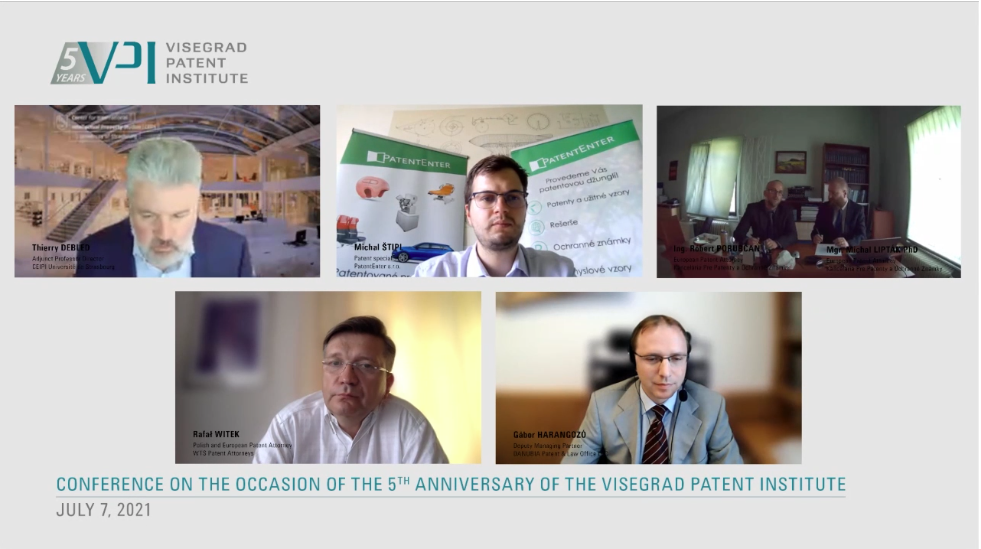 The government representatives congratulated on the VPI's results and emphasised the importance of knowledge, RDI and intellectual property, especially of patents. They expressed the continuous will on behalf of their respective governments to provide the V4 cooperation, and especially the VPI, with strong and determined political support in order to serve actors of innovation.
The ceremonial part was closed by the opening speech of Ms. Johanna Stadler, Director of the VPI, who emphasised the importance of increasing the visibility of the services of the VPI, and offered the continuous cooperation of the VPI to WIPO and the Governments in fostering the knowledge-based economy and the RDI efforts by supporting the patenting of technical intellectual properties by patents abroad.