Following last year's highly successful DPAS Workshop, an online international conference titled Digital Public Administration Summit V4 Summer Workshop was held under the auspices of the Hungarian V4 Presidency, co-organised by Hungary's Ministry of Innovation and Technology, the Ministry of the Interior, the Hungarian National Data Asset Agency and the Digital Success Programme. Digitalisation is an important topic within the Hungarian Presidency's "Reopening" priority, in the context of the post-pandemic economic restart.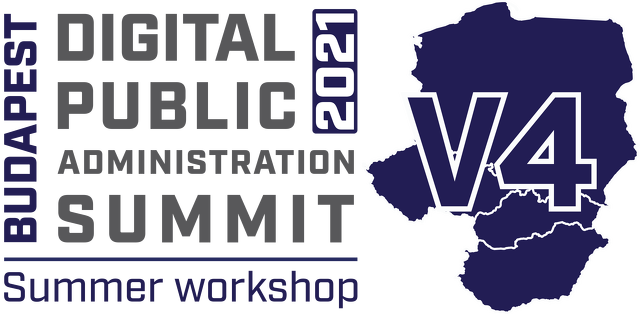 Discussions by Hungarian, Czech, Polish and Slovak experts about topics like artificial intelligence solutions in public administration and the relationship between public data and economic presence, were followed by more than 350 virtual participants.
High-level guest speakers from the Hungarian government, Tamás Menczer, Minister of State for Communication and Hungary's International Profile (Ministry of Foreign Affairs and Trade), and Károly Solymár, Deputy State Secretary for Infocommunication (Ministry of Innovation and Technology) emphasised the importance of Visegrad Group and its potential in cooperation in the field of digitalisation, which is a more and more important topic for the V4, including the Hungarian Presidency.
As expert participants, the Czech Republic was represented by Jakub Malina, data expert official of the Ministry of the Interior. From Slovakia, Milan Andrejkovič, Head of the Data Office of the Ministry of Investment attended, while Polish representatives were Sylwia Stefaniak, an expert in the Department of Innovative Solutions at the Prime Minister's Office, and Aleksandra Chmielecka, expert in the Department of Data Management at the Prime Minister's Office. From Hungary, acting director of the Infocommunication Regulation and Organization Department of the Hungarian Ministry of Innovation and Technology, dr. Gábor Csiszér, and Zsolt Ződi, a researcher at the National University of Public Administration, as well as Barna Gaál, Deputy Head of the E-Government Department of the Ministry of the Interior and László Jobbágy, Managing Director of the Digital Success Programme Ltd have contributed.
During the virtual conference, over two introductory lectures and two roundtables, in addition to applications and good practices related to digital administration and public data portals, topics such as the integration of public data into the data flow or the impact of public data on the market and economy were also addressed.